Blending into the environment: University researcher Mark Bookman uses an access ramp to explore Sensoji Temple in Tokyo's Asakusa district. DAN SZPARA
The Japan Times takes a unique tour through Tokyo for a first-hand insight into what is needed to create universal access for all at the 2020 Olympics and Paralympics
---
ANDREW MCKIRDY
Staff writer
---
What do you do if you are in a wheelchair and you need to go to the toilet, but the only one in the building is up a flight of stairs?
"I've been doing this for 37 years, so I'm used to taking care of how much I drink," says Josh Grisdale, a Canadian-born naturalized Japanese citizen who has cerebral palsy and uses an electric wheelchair. "I think there are more bathrooms available than in Canada, so it's still better than in other places. But it's something you're always conscious of, for sure."
This is a lesson I am learning for myself — firsthand. I am sitting in a wheelchair on the first floor of a restaurant in Tokyo's Asakusa district. The only bathroom is at the top of a narrow flight of stairs, and I need to go.
As an able-bodied person, I could, of course, get out of the wheelchair and walk up to the second floor to relieve myself. But that would defeat the purpose of the exercise.
I have organized a tour of Tokyo with a group of people involved in promoting universal access. I had read a lot of stories over the past few years about Tokyo's plans to use the 2020 Paralympics as a catalyst to make the city accessible for everyone, and I wanted to know how much progress had been made.
As a parent for the past six years, I had gotten used to the inconvenience of pushing a stroller around the city, and wondered what it must be like for people whose impairments make getting around a daily challenge.
Measures to improve access and facilities around the country through universal design have increased in recent years, and, in February 2017, the government pledged to redouble its efforts through its "Universal Design 2020 Action Plan."
The Ministry of Land, Infrastructure, Transport and Tourism is offering subsidies to hotel and Japanese-style inn operators to pay for renovations to improve the accessibility of their facilities.
Last month, the Cabinet approved a new law that comes into force on Sept. 1 next year requiring hotels and inns with more than 50 rooms to make at least 1 percent of those rooms accessible to wheelchair users. Current regulations mandate that hotels with 50 or more rooms need to have at least one accessible room.
From April 2019, public transport companies will be required to announce plans to make their operations barrier-free. As of Nov. 29 last year — 1,000 days before the start of the Aug. 25-Sept. 6 Tokyo Paralympics in 2020 — 92.8 percent of train stations in Tokyo had step-free access, 95.8 percent had universal-access toilets and almost all had tactile paving to aid the visually impaired.
In December 2016, the Tokyo Metropolitan Government published its "Action Plan for 2020," supplementing the national government's efforts. Tokyo government initiatives include making streets around the 2020 Olympic and Paralympic venues more accessible, installing more multipurpose toilets in public parks and distributing information about accessible routes.
In March 2017, the Tokyo Organising Committee of the Olympic and Paralympic Games also published its "Tokyo 2020 Accessibility Guidelines," based on International Paralympic Committee (IPC)
standards. The guidelines form a set of recommendations to ensure that all venues, facilities, infrastructure and services provided for the 2020 Olympics and Paralympics are accessible to everyone.
"The most important objective of the guidelines is for everyone involved in organizing the games — all the various groups, authorities and businesses — to properly understand what is required to make the games accessible and reflect that from the first stage of planning," says Hisashi Nakaminami, head of the Paralympic Games Integration Office. "That's the guiding principle and the most important thing to grasp.
"The organizing committee is limited in what we can be involved in, but with the national government publishing its action plan and setting new standards for hotels, and the Tokyo government setting extra regulations on top of that, it has created favorable conditions for us to follow up on and take advantage of by asking industries like train companies, hotel operators and airports to cooperate. It has really helped us out."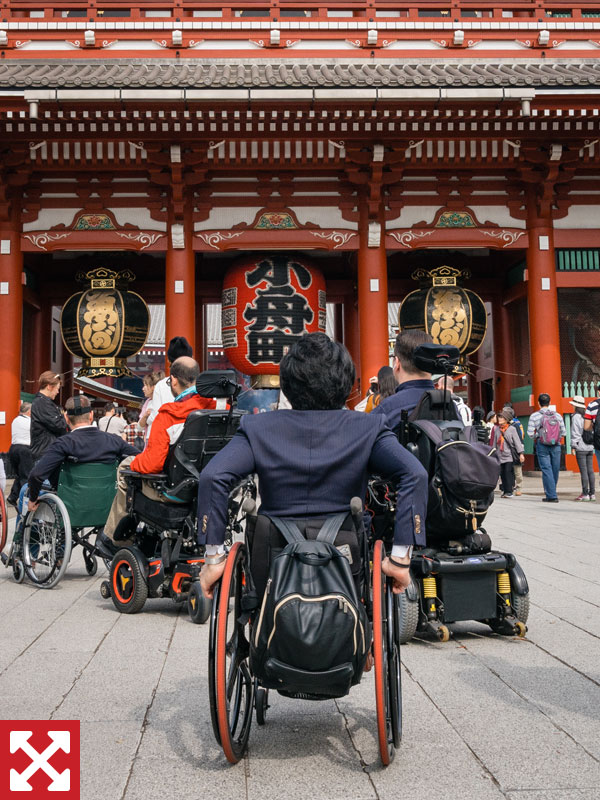 A group of wheelchair users approach Sensoji Temple's Kaminarimon gate in Tokyo's Asakusa district. DAN SZPARA
As of Nov. 29 last year — 1,000 days before the start of the Aug. 25-Sept. 6 Tokyo Paralympics in 2020 — 92.8 percent of train stations in Tokyo had step-free access, 95.8 percent had universal-access toilets and almost all had tactile paving to aid the visually impaired.
Women dressed in kimono pass Josh Grisdale in Asakusa. DAN SZPARA
So far, so good then. But what does that actually mean for people who rely on barrier-free access to get around on a day-to-day basis? I decided to assemble a team and find out for myself.
First, I call on Grisdale, who started a website called Accessible Japan in 2015 to provide English-language information for visitors to Japan. He puts me in touch with Hiroshi Miura, a two-time Paralympic powerlifter who intends to compete at the 2020 Tokyo Games, and Mark Bookman, a visiting researcher at the University of Tokyo studying the history and politics of disability in Japan. Also present are Toshiya Kakiuchi, president of Mirairo, a consultancy firm specializing in universal design that has also produced an accessibility information-sharing app called Bmaps, and two of his colleagues, Emi Aizawa and Atsuki Ihara.
I have borrowed a wheelchair from Grisdale's workplace to transport myself around in for the day. I realize that spending one day in a wheelchair — with the knowledge that I could stand up at any time — is not the same as being in one by necessity. However, I want to experience the city from a wheelchair user's perspective and hope to gain a greater understanding of the hurdles they face.
We will be following a course set by Trip Designer founder and CEO Takeshi Sakamoto, whose company's Omakase Tours offers a tour of Tokyo for people with special access needs. Sakamoto runs a wary eye over the five people in wheelchairs as we assemble at Asakusa Culture Tourist Information Center for the 10 a.m. start on a Tuesday in October, and explains that he has never conducted a tour for more than one person in a wheelchair before.
Undaunted, we ride the elevators up to the observation deck on the eighth floor — fitting in a maximum of two wheelchairs at any one time — to take a look at the city below. The first thing I notice is that my view is obscured by a protective metal fence that stops just above my eye line. Through the gaps I can make out the snaking lines of tourists along the Nakamise-dori shopping strip leading up to Sensoji Temple.
"If this was a weekend, it would be impossible to go along there," Sakamoto says.
In the event, moving along the busy street is not so difficult. The crowds of people taking photos in front of the Kaminarimon gate is tricky to navigate, but not as tricky as the small but numerous changes in height and gradient along the roads and pavements.
I also quickly tire of propelling my wheelchair myself, and cast an envious glance at Miura as his powerlifter's arms pump his chair forward with ease.
"Look at those shops over there," he says, pointing at the narrow, cluttered stores lining the street. "You wouldn't be able to go in there in that clunky chair. They'd have to bring the stuff out to you."
Miura tells me that, even to this day, many shops in Japan refuse to allow wheelchair users to come inside. He was confined to a wheelchair when he suffered a spinal injury at the age of 37, and he used to argue with shopkeepers when he found himself faced with discrimination. Now he just turns the other cheek and feels relieved that he didn't spend his money there.
Paralympic powerlifter Hiroshi Miura traverses an access ramp at Meiji Shrine in Tokyo's Shibuya district. DAN SZPARA
We continue toward Sensoji and make our way to a tastefully discreet elevator at the side of the building. The elevator was installed in November 2003, but Tokyo 2020's Nakaminami says the large number of historic buildings in Japan poses a particular challenge to universal access.
"It's difficult to change the infrastructure while at the same time respecting the history and culture of a place," he says. "Look at the Nippon Budokan; the 1964 Olympic judo competition was held there and the Beatles played there in 1966, so of course the building is old. The inside of the building is difficult to use and the corridors are narrow, but it's impossible to expand or reconfigure those corridors. So when it's impossible to change the infrastructure, you have to think about how you can compensate by getting the support of people and weighing everything up."
After visiting Sensoji and taking photos of Tokyo Skytree from beside the Sumida River, we head to the nearby Sekai Cafe for lunch. Bookman points out how many of Tokyo's restaurants have a single step leading up to their entrances, making wheelchair access impossible.
He praises Sekai Cafe for being able to accommodate us, but I can't help questioning the logic of the only toilet being situated up a flight of stairs. The fact that I have drunk a glass of juice with my lunch means this soon becomes a pressing matter.
Grisdale encourages me to wait until we go to the subway station after lunch, but this provides no relief. It takes six minutes for our entire party to move one by one by elevator from ground level to the ticket machines, only to discover that the toilets are located on the far side of the station.
Instead, we decide to just get on the train and inform the staff so that they can prepare a ramp for us. Grisdale has warned me of the potential difficulties of boarding, and my mind begins to swim with visions of getting jammed between the doors. Instead, the process turns out to be smooth and we all get on safely.
Once on the train, however, I notice how much space we are taking up. My tour companions say they generally don't worry about whether they are getting in other people's way, but I am reminded of something that IPC spokesman Craig Spence had told me when I spoke to him the previous week.
"You're trying to change the mind-set of people in the city," he had said. "Why are we doing this? Why are we making all these changes for a sporting event that's only going to be here for two weeks? One of the biggest changes that I hope these games will make in Japan is that, compared with other major cities around the world, you don't see many people with an impairment. Hopefully the games can act as motivation for people with impairments to take to the streets and be seen."
Tokyo 2020 will be the first games where sponsoring companies are required to take out rights for both the Olympics and Paralympics, and organizers have also asked those firms to feature Paralympic athletes just as prominently as Olympians in their advertising campaigns.
Nakaminami says that changing people's attitudes is just as important as updating the city's infrastructure.
"On Japanese trains, as soon as the doors open, passengers rush for the elevators and escalators," he says. "Lines form in front of the elevators. In Japan, people who get there first go in first. Even if there are people in wheelchairs waiting at the back of the line, no one ever tells them that they can go in first. We need to think about who should use the elevator first. It's something that everyone needs to realize and think about for themselves."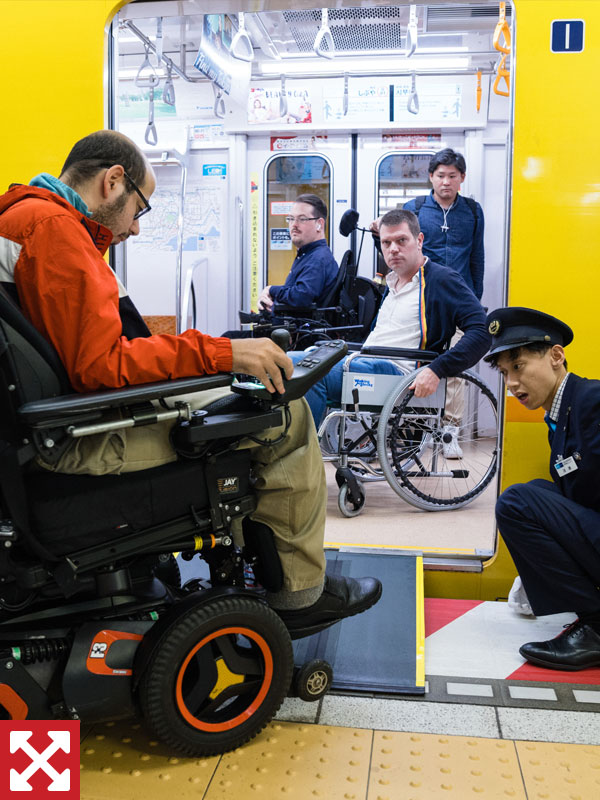 Mark Bookman uses a ramp to board a train at Tokyo's Asakusa Station. DAN SZPARA
One of the biggest changes that I hope these games will make in Japan is that, compared with other major cities around the world, you don't see many people with an impairment. Hopefully the games can act as motivation for people with impairments to take to the streets and be seen."
Helping hand: Reporter Andrew KcKirdy receives some assistance while participating in a tour of Tokyo in a wheelchair. DAN SZPARA
I finally get the chance to go to the toilet when we arrive at Shibuya. The facilities look spacious from the outside, but maneuvering a wheelchair inside is more difficult than it looks. Bookman tells me that public toilets vary greatly in standard and function, and that he was once stuck in one for four hours after falling and being unable to reach the emergency button.
The rest of the tour is fairly smooth sailing (it helps that I am now being pushed), traversing Shibuya's scramble crossing before moving along Cat Street and up Omotesando-dori toward Meiji Jingu shrine. The previous time I had visited Meiji Shrine, I was faced with the Herculean task of pushing a stroller along the gravel path leading up to the shrine. The installation of smooth paths on both sides two years ago has made access significantly easier.
"I was relieved, I think," Grisdale says as we wrap up the tour. "I was a little bit worried about going around with so many people. I thought there would be a lot more problems than going around with just one person. I'm surprised that we were all able to get on the train fairly smoothly. There was the elevator bottleneck, but I feel a bit more that Tokyo is prepared for 2020."
With several issues still to be resolved, however, the city cannot afford to declare itself ready to host the games just yet. Around 4,300 Paralympic athletes are expected to arrive in Tokyo, and although they will stay in the Athletes' Village, officials from the 179 different Paralympic committees, broadcasters and family members will all need places to stay.
The law requiring hotels to make a greater proportion of rooms wheelchair accessible does not come into force until Sept. 1 next year and is not retrospective. Spence admits that the IPC was surprised to find so few accessible rooms in one of the world's most advanced cities.
"There is a danger that if you have a TV presenter who is in a wheelchair and staying in a nonaccessible hotel, they might start sharing their frustrations publicly," he says. "And I think that's a real danger for these games. They can make a lot of great progress but the hotel thing is key. That could shape the perceptions of the games.
"Tokyo, to the people around the rest of the world, is known as one of the most innovative and exciting cities in the world. Yet if they can't accommodate people in a wheelchair in a hotel room, that's a real issue and a concern. That doesn't strike you as a leading, modern city."
Spence does acknowledge that it is impossible to change a city overnight, and he predicts that the real benefits of hosting the Paralympics will not be felt until after the games have finished.
Nakaminami also believes that the efforts that have gone into preparing for 2020 will change Japan forever.
"When you're talking about what we can learn from trying to create a barrier-free society, it's not just about the result," he says. "It's also about the process.
"So many people have been involved: the national government, local governments, hotels, carmakers, train companies, people with disabilities, Paralympians. The number of people thinking about why universal design is so important has increased. If you increase the number of people thinking about it, it's going to be a feature of products and services in the future. If children take it for granted that universal design is a part of their society, they will take that forward."
Tokyo, to the people around the rest of the world, is known as one of the most innovative and exciting cities in the world. Yet if they can't accommodate people in a wheelchair in a hotel room, that's a real issue and a concern. That doesn't strike you as a leading, modern city."
More Deep Dives from The Japan Times