Who is only five apples high and has no mouth — yet is one of the country's biggest cultural ambassadors? None other than the reigning feline queen of kawaii (cute) herself, Hello Kitty.
With the creators of Hello Kitty celebrating the iconic cat's 40th anniversary on Nov. 1, it seems an appropriate time to examine the evolution of a feline who started out life known only as "the white kitten with no name" ("namae no nai shiroi koneko") and has since gone on to establish an international following that is as red-hot as the bow on her left ear.
Although the country's pop culture is garnering interest worldwide through the increasing popularity of manga and cosplay, Hello Kitty is one icon that trumps all in terms of visibility.
Loved by a long list of celebrities such as Lady Gaga, Avril Lavigne (who has a single named "Hello Kitty") and Lisa Loeb (who has an entire album called "Hello Lisa"), her fan base borders on the cultish.
A number of couples tie the knot in ceremonies held at Puroland, Sanrio's Tokyo theme park, without fail every year. In January 2000, meanwhile, seven people were injured in Singapore as crowds jostled to procure a Hello Kitty promotional toy at a McDonald's outlet.
Her recognition is such that Hello Kitty was appointed the children's ambassador for UNICEF in the United States in 1983 and in Japan 10 years later.
In May 2008, Japan appointed the lovable feline its ambassador of tourism in China and Hong Kong, a move that was criticized by some in mainstream media for having little substance given the troubled state of relations between Beijing and Tokyo at the time.
Hello Kitty was first developed by Sanrio, a company that creates products focusing on pop culture.
Looking to add cute characters to its merchandise in an attempt to increase sales, Sanrio conducted a survey and found that dogs, cats and bears (in no particular order) were the most popular.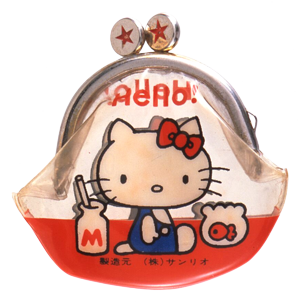 As the company had already created a bear character called Koro-chan and had also signed a licensing agreement over the rights to use Charles M. Schulz's Snoopy since 1969, it decided to focus on creating a cat, which was conceived by in-house designer Yuko Shimizu in 1974 and first appeared on a vinyl coin purse sitting between a bottle of milk and a goldfish bowl.
While Sanrio also has a number of successful product lines such as My Melody, Bad Badtz-Maru and Keroppi, their overall popularity pales by comparison to the mischievous feline.
Hello Kitty's popularity is evidenced by the media storm that broke out in August after Sanrio responded to a request from Christine Yano, author of "Pink Globalization: Hello Kitty's Trek Across the Pacific," and "very firmly" pointed out that Hello Kitty is not a cat, but a girl.
"She is not a cat," Yano noted, repeating Sanrio's correction to a script she was preparing for an exhibit currently on display in Los Angeles. "She's never depicted on all fours. She walks and sits like a two-legged creature. She does have a pet cat of her own, however, and it's called Charmmy Kitty."
Sanrio later stepped back from that position. "It's going too far to say that Hello Kitty is not a cat," the company told the blog Kotaku. "Hello Kitty is a personification of a cat."