---
100 years of Koshien
Annual event has provided
a century of thrills
Hanasaki Tokuharu High School players celebrate the first title by a Saitama Prefecture team last summer. KYODO
From 1915 until the present day, Koshien remains important part of Japan culture
---
ROBERT WHITING
Contributing writer
---
Ah, Koshien.
The 100th National High School Baseball Tournament gets underway on Sunday at historic Koshien Stadium near Kobe. Organized by the Japan High School Baseball Federation in association with the prestigious Asahi Shimbun, the tourney is the largest sporting event in Japan, on par with the World Series and the NCAA Men's Basketball Tournament in the United States, in terms of popularity. Forty-nine teams from around the country will vie for the national championship in a single-elimination competition lasting two weeks. Crowds of up to 50,000 fans per day will attend, while each and every game will be telecast live, nationwide, by NHK to an audience of millions.
Visitors to Japan might wonder why a schoolboy tourney draws so much attention, overshadowing everything including MLB and NPB games and those of any other sport.
For one thing, it is a highly symbolic event for the Japanese as it takes place during Obon holidays, the Buddhist festival of paying respect to departed souls, a time when cities empty out and workers take leave to return to familial hometowns and to visit and honor ancestral graves. With the massive postwar shift of the Japanese population from rural to urban industrial areas, the Koshien tourney became one of the few remaining ways Japanese have of displaying regional loyalties. Each Koshien entry has won intensely contested regional and sub-regional tournaments in a specific prefecture, territory or metropolis of the country.
For another, it is the closest thing Japan has to a national festival. Banner-waving supporters are bused in from all over the country, sporting colorful happi coats festooned with regional badges, while bringing with them samples of local cuisine. As former Number Magazine editor Masahiro Okazaki once put it, "Koshien is a 'universal Japanese experience.' "
Still another reason for the tournament's popularity lies in the long history of amateur baseball in Japan, which dates all the way to the late 19th century, beginning decades before Japan's first professional league was established in 1936.
Baseball was introduced to Japan in 1872, by an American professor of English named Horace Wilson at Kaisei Gakko, a precursor to the University of Tokyo, invited to Japan along with dozens of other engineers and scholars from around the world by the Meiji government, to help the nation modernize after two-and-a-half centuries of feudal isolation.
The Japanese liked baseball because it was their first group sport. Most athletics in the pre-Meiji era were individual undertakings like kendo, jujitsu and sumo. It gave Japanese a chance to exercise their famed group proclivities on an athletic field. As with the rice-planting culture, everyone had a position, everyone had a role. At the same time, the Japanese also found the one-on-one battle between pitcher and batter similar in psychology to sumo and the martial arts. The Ministry of Education deemed the imported sport good for the national character and encouraged the game to be played on the high school and college level.
Baseball became the national sport in Japan in 1896 after a team from First Higher School of Tokyo (also known as Ichiko), an elite prep school for students aged 18-22 headed for Japan's prestigious Imperial University, soundly defeated a team of Americans from the Yokohama Country and Athletic Club, in the first formal games ever played between Japan and U.S. squads.
Their victories were headline news all across Japan. As one Japanese historian later wrote, "Foreigners could not hope to understand the emotional impact of this victory but it helped Japan, struggling towards modernization after centuries of isolation, overcome a tremendous inferiority complex it felt toward the more industrially advanced West."
Pitcher Kotaro Moriyama threw a shutout against the Yokohama team and inspired a saying: "To be hit by Moriyama's fastball is an honor exceeded only by being crushed under the wheels of the Imperial carriage."
Equally important was the way the Ichiko squad had won. Most of the players had come from samurai families and, unlike at other schools, they applied the principles of the martial arts — endless training, development of spirit, self-sacrifice — to their game. They practiced every single day of the year, in the rain or snow or extreme heat. During school vacations they went to intensive baseball camps. Team captain Jitsuzo Aoi swung the bat 1,000 times a night in the team dormitory. The Ichiko regimen was known as Bloody Urine, for it was said (with some hyperbole) that the players practiced so hard they urinated blood at the end of the day.
The Ichiko way
As the popularity of the game grew, the Ichiko way of baseball became the model at most other schools as well. Keio-Waseda games at the turn of the century drew crowds of over 60,000 and warring cheer groups became such a problem that their games were banned for 20 years starting in 1905.
The National High School Baseball Summer Championship Tournament was originated in 1915 by the Asahi Shimbun, which preached that the game was good for Japanese youth because it taught them to cooperate as a unit, among other things, and to be physically and mentally fit. That first tournament involved only 10 teams and was played in the suburb of Toyonaka, Osaka Prefecture, in a park that seated less than 15,000. But its popularity mushroomed and larger accommodations were soon required. In 1924, it was moved to newly constructed Koshien Stadium, a mammoth structure that held over 60,000 fans with up to 50 rows of seats and was modeled after the Polo Grounds, home of the New York Giants. It was the largest stadium in Asia.
Since then, the summer tournament has been held annually at Koshien except during a four-year break during World War II when the field was reserved for grenade-throwing practice and the stadium's infield roof, nicknamed the Iron Umbrella, was torn down and used in the war effort.
Professional baseball surged in the postwar era but high school baseball retained its magical pull, thanks to the heroic Iron Man performances of some of its participants, who overcame great adversity with stoutness of heart.
Takehiko Bessho pitched the final game of the 1941 tournament with a dislocated left arm bound in a sling. What's more, Sadaharu Oh pitched Waseda Jitsugyo High School to victory in the spring tourney in 1957 despite a painful ruptured blister on his pitching hand that caused blood to drip from his fingers.
In 1998, Daisuke Matsuzaka delivered a 250-pitch, 17-inning effort one day after hurling a 148-pitch complete game. He appeared in relief the next day and then pitched a no-hitter in the tourney final the day after that.  It is considered one of the greatest performances in the history of Japanese sports. Famed film director Masahiro Shinoda has declared Koshien players to be "Japanese gods."
Observers have called the high school game in Japan an "ode to fighting spirit," a "celebration of the purity and spirit of Japanese youth," and a stirring display of magokoro, or utter devotion to a cause. Evidence to that effect is everywhere, and not just on the mound. Shaven-headed youths march lockstep into the stadium, regional flags held proudly aloft, and make a fierce vow to uphold the spirit of the sport. Games, played in furnace-like temperatures, feature a profusion of maniacal head-first slides, batters streaking wildly to first base on ordinary walks and teams dashing madly on and off the field between innings. Students play with such intensity that the losers unashamedly break into tears.
In the stands, rival cheer groups in black school uniforms, yelling through plastic megaphones, wage a vocal battle as intense as the one on the field. Mini-skirted pom-pom girls and student brass bands add their all-out support. By midday, temperatures are so brutal that majorettes' batons and the players' metal bats become too hot to handle if left in the sun.
Olympian standards of decorum are also on view. Dubious umpiring calls go unchallenged. Hit batsmen receive an apologetic bow from the pitcher and the sacrifice bunt is laid down at every conceivable opportunity. At the end of each contest, the participants immediately dash to home plate, where they line up, remove their caps and bow deeply to one another. In post-game interviews, students answer questions with the ramrod deference of military academy plebes. Such behavior, school officials will tell you, is part of the participants' education.
High school cheerleaders, reserve players and fans support their team during the 2016 tournament. KYODO
A grueling regimen
For the athletes, the tourney is the culmination of a grueling regimen of training that reflects the Ichiko ethos, one that is evident in most high school sports clubs in Japan, Players train all year several hours a day. They are forbidden to have girlfriends. Junior members must perform such edifying tasks as scrubbing floors or cleaning toilets. A famous story involves Kyojin star Kazuhiro Kiyohara who made the starting lineup as a sophomore and hit a home run in his very first game. He rounded the bases and came back to the dugout with a broad grin on his face, only to be slugged by the team captain, a senior, who warned him not to get a big head.
Playing in a Koshien tourney can be a ticket to success. Those who don't get lucrative pro contracts after graduation can still get good positions as well-paid employees of corporations that maintain teams in Japan's semi-pro industrial leagues. Moreover, just the fact that a man has appeared in Koshien means he will be honored for life in Japanese society.
In the past, concerned individuals have made suggestions to make the summer tournament less of an ordeal. Some have proposed moving the locale to Hokkaido where summers are cool as a way of avoiding the sauna bath heat of Osaka, a heat island which is about 4 C hotter than it was more than a hundred years ago when the tourney first started. But surveys show that players, coaches, parents, supporters and all other groups would rather keep the tourney right where it is despite the heat. The prestige of playing in Koshien Stadium is too great to surrender.
Americans who know about Koshien have called the Japanese system "child abuse." U.S. sports doctors, for example, maintain that the pitching required of team aces in the Koshien tourney is bad for the arm. The California Interscholastic Federation, for example, limits a pitcher to no more than 30 outs a week, roughly 120 pitches. However, here too, Japanese officials have steadfastly refused to change the system, save for recently adding an extra day to play the quarterfinals.
The above-referenced surveys support their decision. For everyone, from the man on the street to the governor's office, winning at Koshien is simply too important. You will also hear people say that without those great displays of endurance and suffering the tourney would lose its meaning.
The current record holder for pitches thrown in a summer tournament, Yuki Saito, logged 948 pitches over two weeks in 2006, leading his school, Waseda Jitsugyo High School, to the championship. Saito later suffered arm trouble and thus far has had only a mediocre career in the pros. But he insists that he has no regrets. "I won Koshien," he was quoted as saying. "There is nothing higher."
Said the well-known writer Masayuki Tamaki, "Koshien is basically a big festival. It's like Gion. Only its dedicated to spirit and guts. I doubt it will ever change."
Best-selling author Robert Whiting has written baseball classics "You Gotta Have Wa" and "The Meaning of Ichiro."
Playing in a Koshien tourney can be a ticket to success. Those who don't get lucrative pro contracts after graduation can still get good positions as well-paid employees of corporations that maintain teams in Japan's semi-pro industrial leagues."
Stadium soil serves as special memento
Although it is unknown exactly when and how it started, there is a famous tradition at the Koshien tourneys that almost all the participating teams do after they are eliminated from the tournament: Players put the "special" soil of the stadium in their own cleat bags to bring back home. According to the stadium's official website, it is speculated that Tetsuharu Kawakami, who later earned the nickname "Hitting God" as a Yomiuri Giants star, was the first to ever do it when Kumamoto Kogyo lost in the final of the 1937 summer Koshien. Interestingly enough, the soil at iconic Koshien Stadium is currently collected from Okayama, Mie, Kagoshima, Oita and Tottori prefectures and is mixed together.  (Kaz Nagatsuka)
Players become pop idols for female fans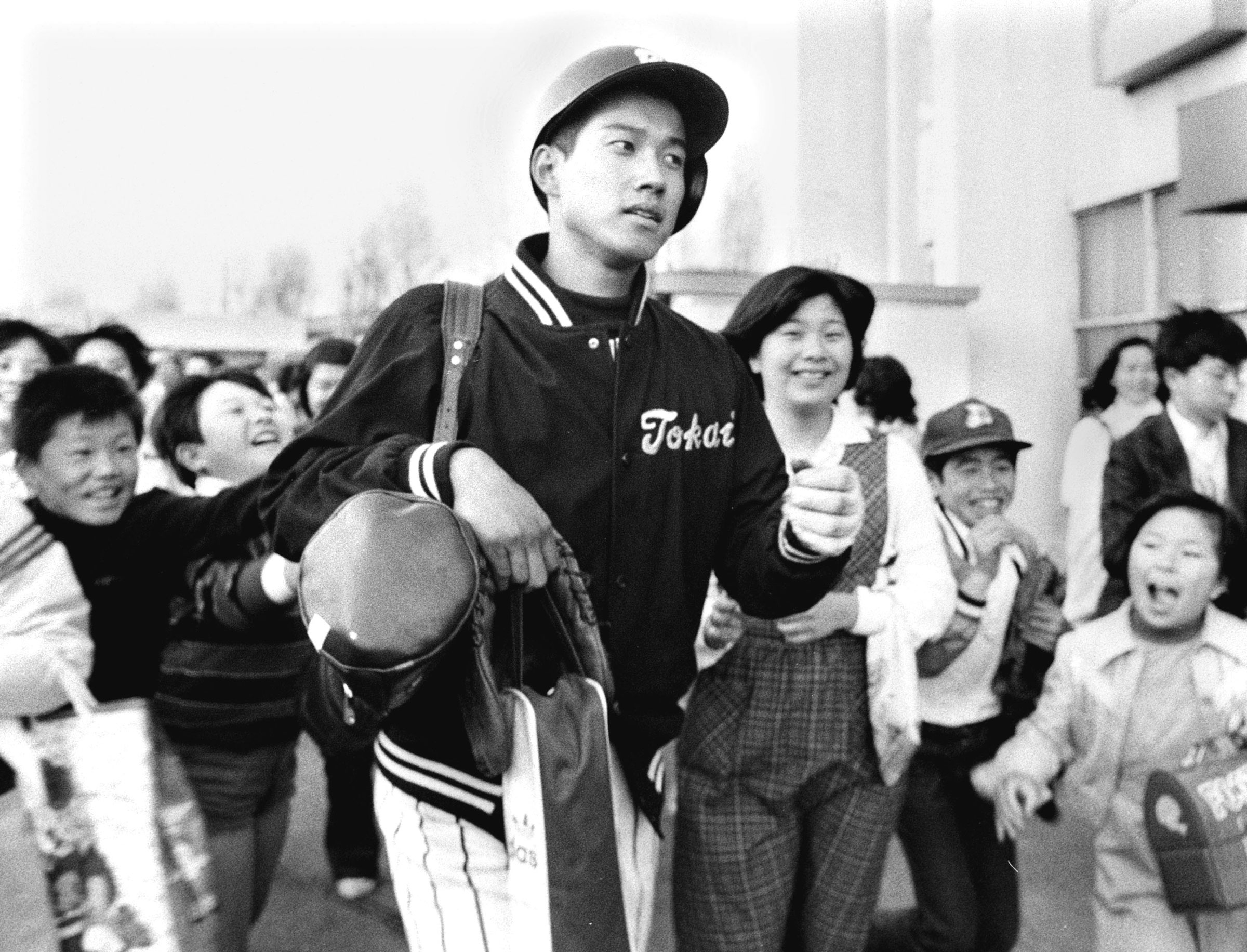 Tatsunori Hara of Tokaidai Sagami was one of the most popular stars in Koshien's long history. KYODO
In its long history, Koshien has seen some handsome, flamboyant idol players who were popular among female fans, and not just baseball fanatics, such as Waseda Jitsugyo hurler Daisuke Araki, Kagoshima Jitsugyo pitcher Shoji Sadaoka and Tohoku fireballer Yu Darvish. Tokaidai Sagami slugger Tatsunori Hara was one of the super idols. Hara, who starred in the three summer Koshien tourneys in the mid-1970s with his father Mitsugu as his manager, became a successful pro player and manager for the Yomiuri Giants. Ironically, most idols have rarely channeled their high school popularity into professional success. Hara, now 60, and a member of the Japanese Hall of Fame, is one of the exceptions. (Kaz Nagatsuka)
'Handkerchief Prince' a quintessential Koshien tale
Saito retains fame for high school heroics, but has struggled in pros
---
JASON COSKREY
Staff writer
---
Yuki Saito, as a high school senior pitching for Waseda Jitsugyo, may have become the most famous athlete in Japan during Summer Koshien in 2006.
Saito stood out at the annual tournament, both for his pitching and the light blue handkerchief he used to wipe away sweat. With rock star looks and a game to match, he became a national sensation with fame that would probably make even one of Japan's ubiquitous pop idols jealous. He was mostly unaware during the tournament, with his focus only on trying to capture the title.
"It's the All-Japan tournament, so it's a really happy thing to be able to pitch there," Saito told The Japan Times this week from Kamagaya Stadium, the Hokkaido Nippon Ham Fighters' ni-gun headquarters. "Because it's the tournament to decide the No. 1 in high school baseball, players take a lot of pride in pitching there."
It's possible no matter what Saito, now a pitcher for the Fighters, goes on to achieve, he'll always be best remembered for leading Waseda to the title in 2006 and being the Hankachi Oji (Handkerchief Prince), the nickname he was given during the tournament after cameras caught him using the cloth to dab away sweat during games. It wasn't until afterward he realized just how big he'd become at the time.
"It was during the 2-3 month period after I finished playing baseball in high school and before I went to college," he said of becoming aware of the attention. "People who were not big baseball fans noticed me. I saw there was an amazing amount of coverage on television and in newspapers and magazines.
"Generally, the focus shifts to the next generation of players after you finish high school baseball, but for those two or three months, all of the coverage continued to be about me. Then I really felt the attention of being called the Hankachi Oji and understood it."
Baseball tradition
The annual summer tournament may be a high school affair, but players who shine there become legends. That speaks to the level of reverence the event is treated with in Japan. 
"The high level of baseball being played (arguably No. 1, most likely No. 2, in the world in this age group. Most star players in the tournament go on to become professional stars) and the 100-year history of the tournament speak for themselves," says Zac Ikuma, a freelance sportscaster currently doing play-by-play for Yokohama BayStars games on Abema TV. "Not to mention, Koshien Stadium, the site of the tourney is an institution —  the Japanese Wrigley Field or Fenway Park."
The things that made baseball such a comfortable fit in Japan in the beginning — the idea of unity and sacrificing of one's self for the group — are readily on display. Many teams still wear all-white uniforms, another nod to the past, and players have shaved heads, which are seen before and after games when they remove their caps and bow to each other. Players are lauded for their "fighting spirit," as they go diving into first base, and sacrifice bunts are plentiful, to say the least.
"Everyone has their role in preserving the wa, even the fans cheering in unison in the stands. In 2008, a few members of Japan's Olympic team, made up of NPB stars, tried to capture this spirit by shaving their own heads, a case of the pros imitating the high schoolers.
Every prefecture sends at least one team, and fans from across Japan fill the stands. Even more watch on TV, with every game televised nationally.
"The sweaty players with similarly buzzed haircuts are considered the classic young Japanese sportsmen," said Ikuma. "The drama is told very effectively and to a large audience by the national network NHK. During the tournament, the news about the tournament is everywhere.
"Before every game broadcast, each team's captain does a short on-camera speech (with teammates in the background) introducing his school on the broadcast.  In many intros the players seem nervous and rigid, which makes them wholesome and folksy, making you want to root for them even more."
The event is big enough the Hanshin Tigers, second only to the Yomiuri Giants in prominence and history among pro teams, leave Koshien Stadium for a three-week road trip for the duration.
"Usually pro baseball would be in the spotlight," Saito said. "But for some reason in Japan, high school baseball gets a lot of attention. I think around Japanese baseball, a lot of fans cheer the game itself. To them, there is no difference between professional and high school baseball."
Waseda Jitsugyo star pitcher Yuki Saito strikes out Masahiro Tanaka of Komadai Tomakomai for the final out in the replayed title game at the 2006 National High School Championship at Koshien Stadium. The game that featured superstars Saito and Tanaka, who now plays for the New York Yankees, is considered one of the most memorable contests in Summer Koshien's rich history. Saito now pitches for the Hokkaido Nippon Ham Fighters. KYODO
The 2006 tournament
When Saito pitched at Koshien, his school was starved for success. Its only title had come during the spring tournament in 1957, when Sadaharu Oh, his hand riddled with pain and bloody from blisters by the final, pitched Waseda Jitsugyo to the title. The school reached the 1980 summer final behind heartthrob pitcher Daisuke Araki, but fell to Yokohama High School.
The 2006 team had plenty of good players, but no pitchers as good as Saito. So he was sent out for every game.
"As you go deeper in the tournament, the schedule gets tougher," Saito said. "If you don't have second- or third-string pitchers, you have to shoulder that burden by yourself.
"But still, winning the championship can't be traded for anything."
In the final, Waseda met Masahiro Tanaka's Komadai Tomakomai, from Hokkaido, a two-time defending champion looking for a third straight crown.
Saito and Tanaka staged an epic pitching duel. Saito struck out 16 in a 15-inning complete game, while Tanaka threw 12⅔ and fanned 10. The game was tied 1-1 after the 15th, which by rule meant it wouldn't count and a rematch would be played next day.
Saito threw all nine innings in the rematch. He took a 4-3 lead into the ninth, and with two outs had to face Tanaka in one of the most famous scenes in all of Japanese baseball. Their tense battle lasted seven pitches before Saito struck out Tanaka to clinch the title. 
Saito had thrown 178 pitches in the first game and 118 in the rematch. It was a jaw-dropping display even pro players wouldn't dare replicate.
"It's probably unbelievable for people from outside Japan," Saito said. "That's one of the good things about Japanese and Japanese culture. Even if your shoulder, your elbow or lower back is damaged, we think the sacrifice can be a beautiful thing. It's our culture to think that way. We have to persevere for someone else. We also think even if we get injured, we're optimistic we can hold on somehow. I wasn't worried about it too much."
In all, Saito threw 948 pitches in seven games from Aug. 6-21. It's still the tournament record. Recently, voices from outside Japan, and some from within, have been highly critical of how pitchers are used during the tournament, citing the risk for injury.
One tipping point was Saibi High School's Tomohiro Anraku, who threw 772 pitches in the 2013 Spring Koshien, which drew lots of coverage in the U.S.
"No one, including fully-fledged adults, should throw 150 (pitches) in a game, let alone 200," said Kazuto Yamazaki, who has written for Baseball Prospectus and in 2016 authored an in-depth report on pitch counts during the 2016 summer tournament for Beyond the Boxscore. "But this is how it's always been done and in this country, changing something is a big no-no, even if it's immoral. The kids are (in a bad situation), and it reflects the bad side of the Japanese culture."
Others, including Yahoo Sports' Jeff Passan, who mentioned Anraku's case in, "The Arm," his book on the growing epidemic of arm injures among pitchers, have also voiced criticisms. 
Saito is not among them.
"I think it's OK," Saito said. "Only doctors can give the medical reasons. As players, we don't really feel it's dangerous when we're playing. Only injured players really know about their injuries. It's only after someone gets hurt you say 'oh, he threw too many pitches.' Maybe doctors would say it's not good, but it's the players who are out there on the field."
Looking forward
As the high school teams and fans prepare to converge on Koshien Stadium again this summer, Saito is pushing forward with his own career. While Tanaka went on to great success in NPB with the Tohoku Rakuten Golden Eagles before moving to the New York Yankees, it hasn't been the same for Saito.
After choosing college over turning pro in 2006, he was a star at Waseda University. The Fighters drafted him with their first pick in 2010, but Saito is just 15-24 with a 4.33 ERA in 76 games on the top level since debuting in 2011. Some of it has been due to injuries, including some shoulder ailments around 2013 and 2014.
"It's not so good," he said of his performance. "It's not something I feel good about."
Still, he remains determined to reach his goals of becoming a double-digit winner in NPB and sticking in the rotation for an entire season while helping his team capture a title.
"Right now, I'm 30, but I don't have a lot of pro experience," he said. "But I am still able to continue playing baseball because I still carry that feeling from Koshien. When I think about giving up, the memory of Koshien pulls me back."
As he looks ahead, he hopes the players who take the field over the next few weeks are able to live in the moment.
"I want them play with all they have and enjoy it," he said. "You can't go back to high school baseball after everything is over. So I want them to enjoy it and be aware of all the support they have."
Usually pro baseball would be in the spotlight. But for some reason in Japan, high school baseball gets a lot of the attention."
Revisiting classic Koshien contests
---
KAZ NAGATSUKA
Staff Writer
---
Koshien, Japan's midsummer sporting tradition, has staged so many great, unforgettable battles in its one-century history. Quite impressively, they have stayed in the collective memory of the nation's baseball fans, partially thanks to its win-or-go-home format.
There are numerous deserving candidates that could appear on a list of top contests, but for brevity The Japan Times selected these seven remarkable summer tournament games to highlight (Use arrows to see more):
Saga Kita vs. Koryo, 2007 final

The public school from Kyushu shocked the nation with an improbable come-from-behind 5-4 victory over the Hiroshima powerhouse in the title game.

Koryo right-hander Yusuke Nomura, who now plays for the Hiroshima Carp, was on pace to shut down the Saga Kita offense, giving up no runs and just one hit and striking out 10 through the first seven innings.

But in the bottom of the eighth, Saga Kita completely turned the tables. It put a run on the scoreboard on a bases-loaded walk to make it 4-1. And then, Hiroshi Soejima, the next hitter, smacked a high-flying grand slam into the left-field stands, which wound up being the game-winning runs for his squad.

Yokohama vs. PL Gakuen, 1998 quarterfinals

It is one of the games that's talked about most by the fans in Summer Koshien history because it featured Daisuke Matsuzaka, one of the legendary players in the marquee event.

PL had a jump start scoring three runs off Matsuzaka, an eventual NPB and MLB star, in the second inning. But the powerful Yokohama offense caught up with the Osaka school and the game entered extra frames.

Yokohama went ahead twice in the 11th and 16th, but could not hold the lead for long either time. Finally, the dramatic duel was wrapped up in the 17th, when bench player Ryota Tokiwa belted a two-run homer in the top of the inning. By doing so, he rewarded Matsuzaka, who tossed a jaw-dropping 250 pitches, in a 9-7 victory.

The senior right-hander then twirled a no-hitter in the final to give Yokohama its second Summer Koshien crown.

Matsuyama Shogyo vs. Kumamoto Kogyo, 1996 final

One of the most amazing defensive plays in tourney history helped Matsuyama Shogyo rack up its sixth Koshien title with a 6-3 triumph over Kumamoto Kogyo in an 11-inning battle.

With the game 3-3 in the bottom of the 10th, Kumamoto Kogyo was on the verge of capturing its first-ever summer title with a one-out, bases-loaded situation. Kumamoto Kogyo's hitter then launched a flyball to right that seemed deep enough to drive in the runner on third base on a tag-up play. However, right fielder Masatsugu Yano, who had come off the bench as a defensive substitute right before the play, made a perfect, no-bounce, on-target throw to the catcher's mitt. The catcher tagged the runner out and Matsuyama Shogyo survived the jam.

With the play, the Ehime Prefecture representative grabbed the momentum and scored three runs in the 11th to hoist the championship flag.
PL Gakuen vs. Ube Shogyo, 1985 final

The Koshien legendary "KK" duo of Kazuhiro Kiyohara and Masumi Kuwata wrapped up their brilliant high school careers with a dramatic 4-3 walk-off win in the championship game.

Kiyohara, later a star slugger for the Seibu Lions and Yomiuri Giants, smacked a pair of game-tying homers in this contest (The right-handed hitter amassed a record 13 dingers combined at the spring and summer Koshien tourneys).

Around Kiyohara and future Giant ace pitcher Kuwata, the team's best phenoms since they were freshmen, PL established a dynasty in Japanese high school baseball in the 1980s. Kiyohara and Kuwata guided the Osaka school to the championship game in all three years, winning two of them.

Minoshima vs. Seiryo, 1979 third round

A hard-fought game, often dubbed Japan's "the greatest high school baseball game" that has ever been played, shocked the hearts of spectators and TV viewers.

Seiryo, a Ishikawa Prefecture squad, took the lead twice in extra innings, but Minoshima tied it on solo homers each time. Minoshima ended the contest on Keizo Ueno's RBI single in the bottom of the 18th, which would've been the final inning (the two teams would have staged a replayed game the next day if it was declared a tie). The final score was 4-3.

Seiryo could have been the winner if it made one play in the 16th. After it took a 3-2 lead, a Minoshima hitter launched a flyball in foul territory near first base, but the Seiryo first baseman failed to catch the ball as he stumbled on newly laid artificial turf there. And then the same hitter homered to tie the game, which was later recalled as one of the miracles that took place in it.

Matsuyama Shogyo vs. Misawa, 1969 final

Star pitcher Koji Ota-led Misawa made it to the Summer Koshien final, becoming the first Aomori Prefecture team to do so, yet fell short 4-2 in a replayed game after playing an 18-inning, scoreless tie in the first game the previous day.

Misawa could not capitalize on one-out, bases-loaded situations in the 15th and 16th innings, and it wound up costing it the championship.

Ota, who later played for the Kintetsu Buffaloes, tossed all the 27 innings in the two final games for 384 pitches against the Ehime Prefecture team by himself. He was popular among female fans and is said to be the pioneer as an idol player at Koshien.
More Deep Dives from The Japan Times