---
Anpanman:
Is the children's superhero the best thing since sliced bread?
---
Anpanman:
The best thing slice sliced bread
Anpanman ©TAKASHI YANASE/FROEBEL-KAN,TMS,NT
Illustrator Takashi Yanase's beaming cartoon character celebrates the 30th anniversary of 'Soreike! Anpanman' on Nippon TV
---
ANDREW MCKIRDY
Staff writer
---
If you have been anywhere in Japan for any length of time over the past 30 years, there is a very good chance you will have come across Anpanman.
His round face, bright red nose, rosy cheeks and infectious smile will have beamed out at you from TV screens, billboards and supermarket shelves the length and breadth of the country. He and his seemingly endless cast of food-based friends will have waved back at you from TV commercials, shopping centers, public libraries and doctor's offices.
In the crowded and competitive world of Japanese cartoon characters, Anpanman is king. He stands astride a commercial empire worth an estimated ¥100 billion to ¥120 billion in annual revenue, and holds licensing agreements with around 70 different companies.
He has sold 79 million copies of his picture book series, and has just celebrated the 30th anniversary of his TV show, "Soreike! Anpanman," on Nippon TV.
Not bad for a superhero with an anpan (bean jam-filled pastry) for a head.
"Some children can say Anpanman's name even if they've never seen the TV show or books," Rika Kataoka, managing director of the licensing department of rights holder NTVM, says ahead of the Oct. 3 anniversary of "Soreike! Anpanman," which airs every Friday at 10:55 a.m. "Either their friends have Anpanman things, or their kindergarten or nursery has them. It's a fact that kids can't avoid knowing who Anpanman is."
Anpanman was created by illustrator Takashi Yanase, who passed away in 2013 at the age of 94, and first appeared in the "Kinder Story" monthly magazine for kindergartens in 1973.
Yanase came up with the idea of a just and true superhero who helps people in need by breaking off pieces of his face to give to them to eat. These acts of kindness weaken Anpanman's strength and impair his ability to fly, but fortunately his on-screen creator, master baker Uncle Jam, can replenish it by baking him a fresh head in his oven.
Anpanman lives in a world full of food-based heroes and villains, including his friends Currypanman, Breadhead-man and Cream Panda, and his archnemisis, the dastardly, germ-riddled fly, Baikinman.
The franchise set a new Guinness world record for the most number of characters in an anime series when it breached the 1,768 mark in June 2009. That number has since risen to more than 2,300.
"The target audience is maybe a bit younger than for some of the other iconic cartoon characters out there," says film critic and cultural commentator Mark Schilling. "There are other shows out there that target very young kids, but they exploited the market so well with all the character goods. It's become this big franchise.
"In the West you see something like 'The Gingerbread Man,' but the story is completely the opposite," he says. "A woman is making gingerbread cookies and she makes a gingerbread man. The gingerbread man comes to life and runs away.
"In the original story the gingerbread man is eaten by a fox, but in the Anpanman story, Anpanman gives himself to people. He takes part of his head off and gives it to people. In the American story, the character runs away to save himself. In the Japanese story he gives himself to the other characters. That strikes me as something very Japanese. You're teaching very young kids to sacrifice themselves for others."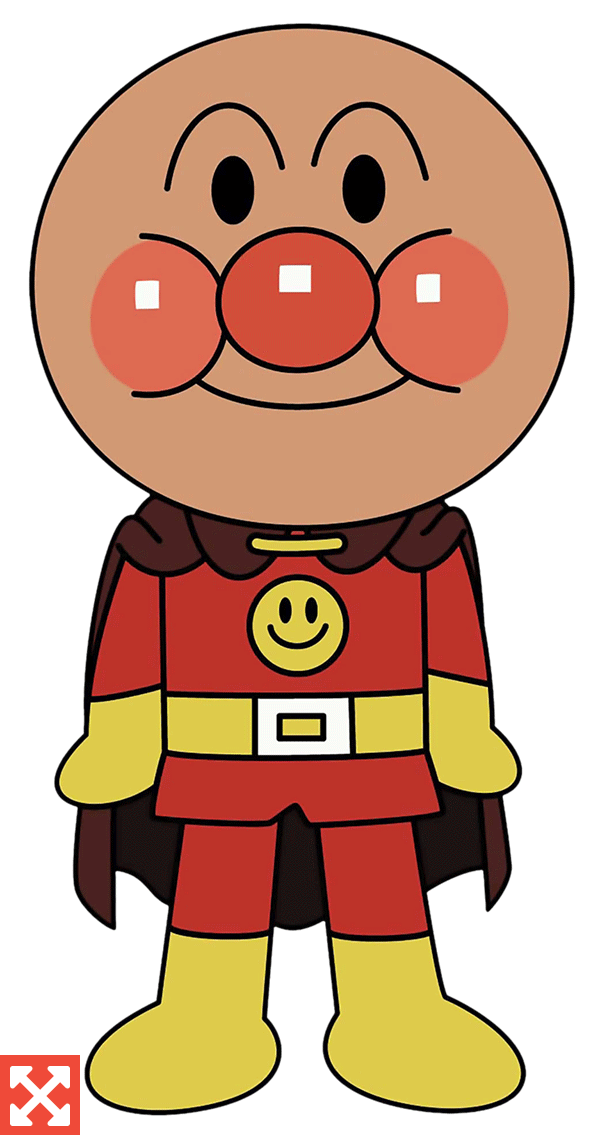 Cartoon hero: Anpanman stands astride a commercial empire worth as much as ¥120 billion in annual revenue.  © TAKASHI YANASE / FROEBEL-KAN, TMS, NT
Illustrator Takashi Yanase came up with the idea of a just and true superhero whose head is an anpan (a pastry filled with bean jam), who helps people in need by breaking off pieces of his face to give to them to eat.
Anpanman's creator, Takashi Yanase, initially aimed his books at children aged around 5 years old. KYODO
Humble origins
Anpanman began life as part of a monthly picture book sold directly to kindergartens by publisher Froebel-kan. Some people at the company were initially skeptical about the idea of a main character whose face is gradually eaten away to nothing, but an enthusiastic response from children persuaded them to produce a special edition for general sale.
Further new editions were only released once a year, but kindergarten teachers began to tell Froebel-kan that their copies were becoming worn out from overuse. The company subsequently increased its output, taking the character to a wider audience.
Yanase's Anpanman books were initially aimed at children aged around 5. Makoto Amano, an adviser to Froebel-kan's Anpanman division who worked with Yanase for most of his time with the company, believes the author's refusal to compromise was one reason for the books' success.
"He never talked down to children or treated them like babies," Amano says. "Even if kids don't know a word, they still remember it and as they grow up they find out what it means and learn how to use it. He never dumbed it down just because they were children."
The picture books' popularity meant it was not long before an anime version of the series arrived, and a single-episode adaptation aired on NHK in March 1979. NTV then launched its "Soreike! Anpanman" series, produced by TMS Entertainment, in October 1988, and executives soon realized that the six-month run they had initially planned would not be enough to satisfy demand.
"The record viewing rate for 'Soreike! Anpanman' came on Christmas Day in 1989. It was 15.4 percent," says "Soreike! Anpanman" producer Yuichi Takahashi. "That's still the record for the program to this day. The time of day that the program is shown has changed since then so you can't compare it properly, but that was a big viewing rate at the time. Of course, there were a lot of different factors, but if you consider that it got such a big figure just over a year since it was first shown, that tells you how much of an impact it had."
The animated series stuck largely to the themes and style of Yanase's books, although several cosmetic alterations were made. The original books saw Anpanman break off so many pieces of his face over the course of an episode that he would fly back to Uncle Jam's bakery headless, but that was deemed unsettling by TV executives and the character's acts of kindness were rationed to two or three chunks at the most.
Over time, Anpanman became more rounded and cuter, losing his five fingers and developing digit-less, ball-like hands. The age of the target audience also fell to around 1-3 years old, although Amano insists that Yanase maintained a high level of control.
"When the anime was first made, Yanase submitted a list of demands," he recalls. "Usually the author would leave most things up to the producers but Yanase was very particular about things. He wanted the characters to be a certain way and wouldn't allow certain things. He had his own rules. So when the anime began, it was made the way he wanted it to be and there weren't any impossible demands placed on him."
The success of "Soreike! Anpanman" exposed the character to a nationwide audience, and opened up lucrative new opportunities to market his image.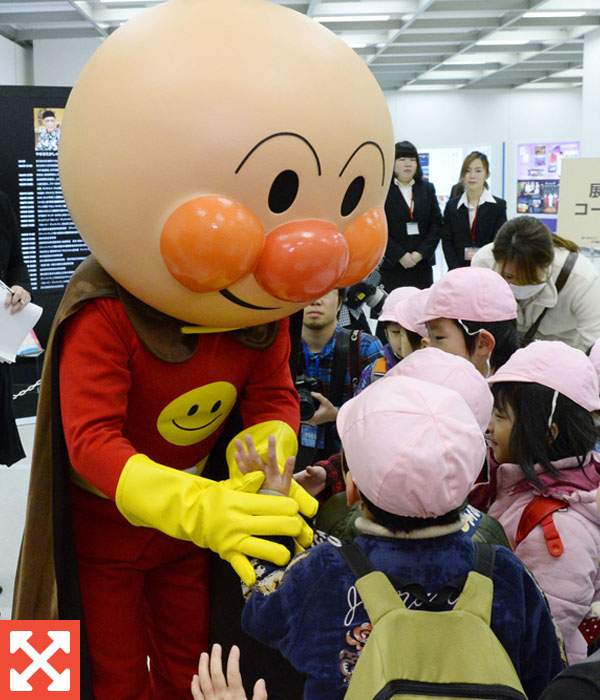 A person dressed as Anpanman greets children in Tokyo. KYODO
(Yanase) never talked down to children or treated them like babies. Even if kids don't know a word, they still remember it and as they grow up they find out what it means and learn how to use it. He never dumbed it down just because they were children."
People dressed as Anpanman characters stand outside the Anpanman Children's Museum in Yokohama. KYODO
Anpanman's rights are held by a coalition of NTV, TMS, Froebel-kan and the Takashi Yanase estate, with NTVM serving as the "shop window" for licensing tie-ups. NTVM's Kataoka says most of the roughly 70 companies that currently license Anpanman's image — and emblazon his face on everything from toothpaste to clothing — have held their agreements for the 30 years since "Soreike! Anpanman" first aired.
Anpanman's popularity has also spawned a chain of museums, with the first appearing in Yokohama in 2007. They were followed over the next seven years by franchises in Nagoya, Sendai, Kobe and Fukuoka, although the name "Anpanman Children's Museum" is perhaps stretching the definition somewhat.
Rather than musty artefacts, the facilities are essentially children's play areas with spaces for live performances, workshops, dioramas, puppet shows and the chance to meet mascots dressed as Anpanman and myriad other characters.
The Yokohama museum employs around 120 people, while the adjoining shopping mall, which features a range of stores all selling Anpanman-branded goods, employs around 380. The museum attracts between 700,000 and 800,000 visitors each year, and is set to relocate to bigger premises in June 2019.
On a Monday morning in Yokohama in September, the museum was busy despite having just opened at 10 a.m.
"It's my daughter's birthday," says Michael Sill, an American resident of Japan, as he watches his 4-year-old daughter, Hannah, chase after a Baikinman-branded ball. "I guess she heard about it from family and she wanted to come here. I think the first time I heard of Anpanman was when I had been here for about a year and I saw some toys and the TV show and a lot of kids wearing the clothing.
"It kind of reminds me of Tom and Jerry, or something like that. It's about one guy trying to get the other. It's fun and playful."
Sill admits he had never heard of Anpanman before moving to Japan four years ago, and he is not alone in that regard among people raised outside the country. "Soreike! Anpanman" has been shown in various nations, mostly in Asia, but the character has never really taken off overseas in the way that successful Japanese exports such as "Pokemon" have.
NTV producer Takahashi believes the very essence of Anpanman and his friends may be the problem.
"We broadcast a special 30th anniversary Anpanman show, and part of that involved interviewing people on the street. We asked some visitors from overseas what they thought of it, and they didn't know what anpan, karepan or meronpan were," he says, referring to varieties of bread based on bean, curry and melon.
"They're all Japanese foods. These are things that are familiar to us, but people from overseas don't know what meronpan is. You would have to explain it to them. It really is a show with very domestic Japanese content."
Anpanman character toys on sale at the Anpanman Museum in Yokohama. YOSHIAKI MIURA
Enduring popularity
Nevertheless, Anpanman has enjoyed some success abroad and, in September 2015, the first official shop overseas opened in Taiwan.
Earlier this year, South Korean pop group BTS, who have sold an estimated 9 million albums worldwide, recorded a song called "Anpanman," explaining that they were inspired by the idea of a superhero who helps others.
The Anpanman Children's Museum in Yokohama has also reported numbers of around 20,000 overseas visitors a year since it began keeping records in 2016, accounting for around 2.5 to 3 percent of all visitors. The museum publishes floor guides in English and Chinese.
Schilling believes there is potential for Anpanman to cross over into the Western market, but he admits there are significant cultural barriers.
"They have done it successfully with other shows," he says. "Take 'Power Rangers.' With 'Power Rangers,' they just took the action scenes. They totally reconfigured it for the American market. They introduced American actors. If you just had the Japanese characters, it wouldn't have gone over so well. So for something like Anpanman they would have to redo the whole thing. They would need a new food.
"But they're doing so well in Japan. It may be confined to Japan, but why put in the effort to take it abroad?"
Anpanman certainly is doing well in Japan. In June, he was named as the nation's favorite fictional character among children aged 0-12 for the second year running in a survey conducted by toymaker Bandai, beating Doraemon, Glitter Force and Kamen Rider with 11.5 percent of the vote.
The reasons for Anpanman's enduring popularity have been widely debated, with academic theses even being written on the subject. Schilling, for one, believes Anpanman's appeal is of a primal nature.
"It addresses something that very young kids are familiar with, which is food," he says. "Something very, very basic. Little kids see everything in terms of their oral fixation. They see something on the floor and they want to eat it. You find this in the West as well, of course. It's a universal trait."
Others have also argued that Anpanman stimulates something latent within young brains, and Bandai has even released a range of branded toys whose designs the company says were based on research by neurologists.
Froebel-kan's Amano, however, believes Anpanman's lasting appeal is a testament to Yanase's storytelling.
"Yanase himself didn't even know why it was so popular," he says. "But children look at things from a pure point of view. I think the times caught up with Yanase. At first people thought it was cruel to have people eating Anpanman's head and they couldn't understand what it was all about. But then people began to realize that it was all about helping people in trouble."
So what now for Anpanman? With more than 2,300 characters in the Anpanman universe and plans to add more, can fans keep up with who's who? Can the franchise survive without Yanase's guiding hand on the tiller? And will the evil Baikinman ever succeed in getting one over on Anpanman? There's a chance, for sure, although it's a little hard to see our pastry hero going stale anytime soon.
For the moment, fans are content to revel in the celebrations surrounding the 30th anniversary of "Soreike! Anpanman," attending a special event at Tokyo's Ryogoku Kokugikan on Oct. 6 and 7.
A vote was also organized through the Anpanman Fan Club to find out the most popular character in the series, and the results were announced on Oct. 3.
And the winner? Anpanman, of course.
"At the moment the show has a lot of support, but at 'Soreike! Anpanman' we're always looking to create something new," Takahashi says. "We don't want it to always be the same. We have more than 2,300 characters and every week we're looking for them to do something new."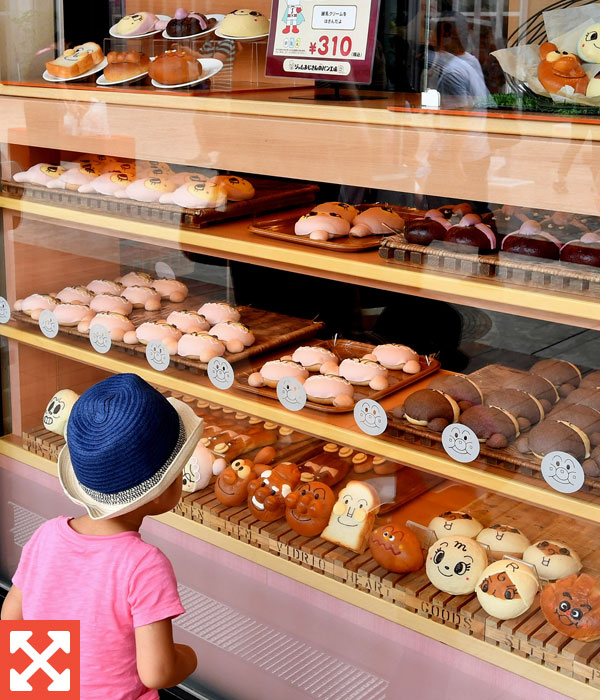 Sweet tooth: A child looks at a selection of pastries on display in a shop at the Anpanman Children's Museum & Mall complex in Yokohama in September. YOSHIAKI MIURA
(Anpanman) addresses something that very young kids are familiar with, which is food. Something very, very basic. Little kids see everything in terms of their oral fixation. They see something on the floor and they want to eat it. You find this in the West as well, of course. It's a universal trait."
Colorful cast of characters
Anpanman: Anpanman was born when a shooting star landed in Uncle Jam's oven as he was baking anpan. He is a champion of justice who gives pieces of his face to those in need, and will go anywhere to help someone in trouble.
Uncle Jam: Anpanman's fictional creator is a kindly old man with gray hair and a bushy mustache. A master baker who lives in the Bread Factory, he is also a scientist who created the Anpanman Mobile.
Batako: Upbeat assistant to Uncle Jam in the Bread Factory, she is nonetheless forgetful. A good singer with a knack for comforting babies, Batako is also a skilled seamstress who fixes Anpanman's capes.
Cheese: Cheese is a dog who was saved by Anpanman when he was a puppy. A loyal sidekick who helps Anpanman out when he is in trouble.
Currypanman: A friendly superhero whose head is made of pastry filled with red-hot curry. Can be quick-tempered and rough but is also a reliable big-brother figure who is loved by everyone.
Breadhead-man: A friend to Anpanman whose head is a slice of white bread. Something of a heart-throb, Breadhead-man is particularly popular with young children and girls.
Melonpanna: Female superhero who has an elder sister named Rollpanna. Melonpanna's signature move is the Melo Melo Punch, which makes the person on the receiving end love sick.
Cream Panda: The youngest of Anpanman's friends and a foster brother of Melonpanna and Rollpanna. Looks up to Anpanman but often gets pushed around by Baikinman.
Baikinman: Came from Planet Baikin to defeat Anpanman. His name means "Bacteria Man" in Japanese, and he can often be found playing tricks on people and bullying those weaker than him. His favorite phrases are "Ha Hi Hu He Ho" and "Bye Baikin."
Dokin-chan: Baikinman's female sidekick. Vain, selfish and greedy, she has a crush on the handsome Breadhead-man. Her name is a portmanteau of the Japanese onomatopoeic word to signify a beating heart, and the word for germ.
More Deep Dives from The Japan Times